A short time after the french Metal-Band The Old Dead Tree released their third album "The Water Fields" we had the chance to interview the band's singer Manuel Munoz.
This is the english original text of the interview.
For the german translation click here.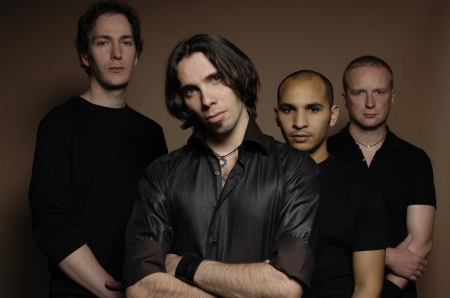 Hello Manuel! At first, thank you that you found time for us.
By which musicians is your music influenced?
We all listen to many different styles of music… so it goes from 70's pop-rock to extreme metal. We don't want to settle any limits, provided that music is staying driven by strong feelings and deep emotions. Our main influences are bands like Pink Floyd, Paradise Lost, In Flames, Muse or Opeth. They all created something new, unique and personal. I belive that's the main goal to achieve as a musician.
Who writes the lyrics of The Old Dead Tree?
I am responsible for them in the band. Before writing "The Water Fields" lyrics, I would have definite them as a very selfish way to deal with problems. But for this album, I tried to focus more on people around me, my relatives, my friends, my family. That can sound silly, but after the release of our second album, "The Perpetual Motion", I realised that too many
people I never met knew about my intimate feelings and pains. That's why The
Water Fields is "other people" oriented. Observing them, I tried to analyse the
way people react to a problem. I realised that the first reflex while
confronted to pain was to hide or to run away from it. That's how I imagined
this common imaginary place, a safe haven where we can rest, "The Water Fields".
Where does the name of the band come from?
I think that The Old Dead Tree
is a name that stays in the head. From the very beginning, we wanted to find a
name evoking something special in people's mind, a strong image. The choice of
a band name is very important as you
should be able to remember it from the first time you see or hear it. The picture of an old dead tree can be sad,
but also aesthetically beautiful… You can find a lot of interpretations in it,
as it depends on your state of mind at the moment you see it. It's the way our music is too, sometimes angry and heavy, sometimes more calm and atmospheric…
Your tours lead you thorugh several european countries. Do you feel a difference between the fans in your home, France, and the other European fans?
The band is based in Paris since the beginning. Logically, I would say that our "oldest" fans are from France. But things began to chance rapidly whith the release of our first album that has been welcome all over the international metal scene. We do benefit today drom a strong and fast-growing fanbase, especially in Europe. One says that southern European fans are sometimes becoming kind of "crazy" during live shows. It also appears that British people are a bit more "versatile", always staying aware of new trends. It is said that German and northern European people are open-mindet but also experts and demanding. And maybe that France is just at the crossroads!
Which country would you like to travel with your music?
Too many to list here! Maybe I would say Australia or Mexico because visiting these
countries would be a totally new experience. But I think that the band has to
focus on Europe first. And to be honest, I
would name Germany
on the toplist! As we've been recording albums in your country, we realised
how open-minded German people are. In France there's no way for a metal
or a gothic band to get support from the mainstream media. These styles of
music of are considered as teenage music. Maybe I'm wrong, but watching German
music TV I could watch videos from Amon Amarth or Disbelief in the afternoon.
And that could just not exist in France!
What was the greatest moment in the history of The Old Dead Tree?
Without any doubt, I would say touring with Paradise Lost… Our dreams came true when we did some gigs together with them in France, Belgium and The Netherlands. They're still one of my favourite bands ever and they have a certain contribution in The Old Dead Tree's existence.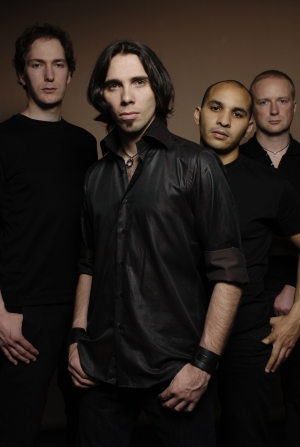 The big characteristic element in the sound of The Old Dead Tree is that your voice chances from soft to hard in seconds. How can you do that?
Not as well as I would like in fact. We toured a lot to promote our second album "The Perpetual Motion" in 2005 and 2006 and I realized that my voice couldn't stand playing too many gigs in a row. So I had to take medicines like cortisone. Let's agree that it's not a good way to manage such a problem. I've been meeting singing teachers, doctors and finally I had 30 sessions with an ortophonist who taught me how to breath and speak correctly. Along this 8 months period, I totally stopped singing during the rehearsals in order to forget my bad habits. Today I feel much more comfortable and confident. I think that both my voices, clean and screamed, sound more natural and human, less controlled. I'm really proud of the result you can hear in this album.
You are one of the very few french Metal-Bands people know outside of France. What is the difference between you and the other French Metal-Bands?
We always wanted to avoid limiting us to France only. Indeed, there is a lack of stuctures and culture for metal music in our home-country, even if we note that things are changing now… fortunately! That's why we chose to sign a deal with the international record label Season Of Mist. They immediately gave us the opportunity to benefit from both international promotion and distribution. In the meantime, we played severel shows and festivals abroad as headliner or supporting act for bands like Paradise Lost, Opeth, Katatonia etc. In my opinion, the French metal scene is really improving – being also more professional and structured! Bands like Gojira and Dagoba are goog examples…
Is there something you would like to say to our readers?
We would like to thank our German, Austrian and Swiss fans. You are more
and more numerous day after day and your strong support really honours us! We
just can't wait to see you on tour in November and December! Check our official
website www.theolddeadtree.com and for
all details regarding the tour dates! DANKE UND BIS BALD!
Thank you for the interview!
Interview: Stefan Fruehauf, stefan(at)dark-festivals.de